Nick's Yard Sard
For Sard: Apple Thunderbolt Display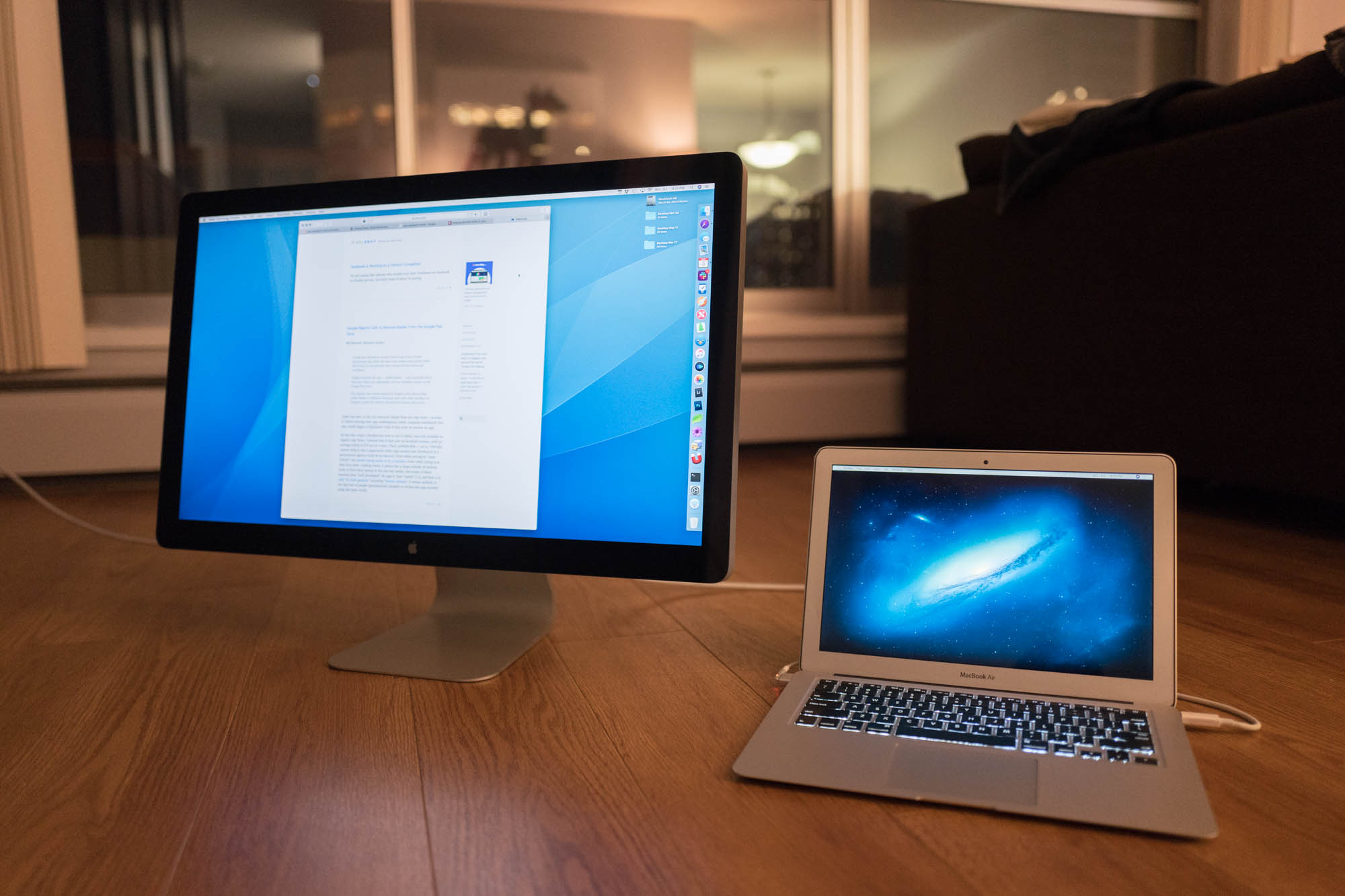 Up for grabs is my Thunderbolt Display. And, honestly, it's a little upsetting because this is one of my favourite computery things I've ever bought. But now it can be yours.
I bought this Thunderbolt Display in August of 2012. I am selling it because I just bought an iMac, and I have no need for a second display. Even though it's over six years old, this display shows virtually no signs of wear and tear. I can see no dead pixels, very little dust under the glass, and there is no evidence of image retention. There are no cracks or chips in the glass, either on the front or on the edges. It's a real good, high-quality, IPS display.
But it isn't just a display. On the back, there are three USB 2.0 ports, a FireWire 800 port, gigabit Ethernet, and a Thunderbolt port. It also has a FaceTime camera, speakers, and a microphone built in. In short, it's a truly excellent docking station for your MacBook Air or MacBook Pro, which you connect with a single cable that splits into a Thunderbolt connector and a MagSafe charger.
Other important things I want you to know:
This display has only needed servicing once, to replace the data and power cable. I had that service done at WestWorld Computers in Calgary in — I think — 2017. Basically, the cable is very new.
During that service, a technician scratched the back of the display a bit. It sucks, but it's also, like, on the back, so I don't think it's a huge deal. See photos below.
Includes the display with the attached Thunderbolt and MagSafe cable, a MagSafe-to-MagSafe 2 adapter, and a power cable.
I have tested all ports, the speaker, microphone, and webcam; everything works.
I don't have the box any more. It is also not under warranty because, well, it's six years old.
If you've never had an Apple display before, you should know that this thing is really heavy. Apple says it weighs nearly 11 kilograms.
Given that I don't have a box and it's stupid heavy, I would rather not ship this thing. Local (Calgary and area) buyers preferred.
I paid a thousand dollars for this and I don't regret it one bit. These displays are going for anywhere between $300 and $800 on eBay, plus about $100 in shipping charges. I'd like to get about $500 for it — it's in pretty great condition, works perfectly, and has served me well for the past six years. Payment can be made via Interac e-transfer, PayPal, or a fat wad of cash.
$500
Or will trade for a mint copy of Frank Ocean's "Endless" LP.